Mold Inspections & Testing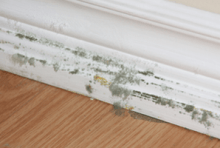 So, there's a stain on the wall on the wall in the hallway – is it mold or is it where little Jonny ran his wagon into the wall again? Is it Black Mold or is it just really dark grey mold? Actually, that mold is has a greenish color!
Alpha Envrionmental's trained professional licensed mold inspectors will inspect that stain, determine if there's moisture coming from an adjoining room to cause mold, or if that spot should be tested. Is that spot on the wall dormant, inactive mold? Or is it active and growing, spreading spores into the A/C system all the way across the house?
We also can test for VOC's, Volatile Organic Compounds. Hundreds of these compounds are on EPA's Air Toxic list of harmful materials, such as glues, flooring, hair-care products, automotive byproducts, craft materials, cleaners, and many other chemicals you may have never heard of.
Get In Touch With Alpha Mold for Your In Home Mold Inspection