Got Allergens? Get Answers.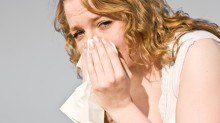 Got Allergens? Get Answers. Imagine! Your life, Your Allergies.. Controlled. 
The END of your Allergens & mold problems begin here. 
Alpha Environmental is Tampa Bay's allergy testing resource.  The company's Indoor Air Quality consultants can provide you with technical expertise to determine the means required to improve your overall well-being.  They are prepared to help you imrove your overall indoor air quality.  So you can Breath Easy!
We get it! You want to enjoy your indoor living, without being tied to medication, inhalers, or other breathing apparatus.
No need to wait.  Call one of our trained, licensed and insured Indoor Air Quality professionals for your no-obligation phone consultation.  He could schedule your appointment for tomorrow!
Alpha Environmental inspects, tests, analyzes and offers solutions for hundreds of homes and businesses each year.  The samples which may pinpoint your indoor air quality problems include mold, microbial particles, bacteria, and a variety of other allergy-causing particles indoors such as dust mites, cat and dog dander, and pest residue.  NO EXCUSES!