MOLD INSPECTION – REVEALING THE INVISIBLE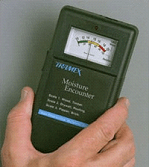 The most common question people ask when they talk to the certified staff of expert mold professionals at Alpha Environmental Diagnostics is "What does a mold inspection include?"
The answer is sometimes confusing to the average homeowner who has never encountered an indoor mold issue. Rest assured that Board-Certified and State Licensed mold experts at Alpha have the experience to assess your particular problems and concerns. Their inspectors will develop a customized strategy to help resolve the mold problems in your home or building using our Five Step Mold and Moisture Inspection Process.
Step One of this mold & moisture inspection process involves collecting information regarding current or past problems, such as humidity or condensation problems, moldy odors, building envelope leaks, plumbing leaks, or any visible mold observed. An occupant interview regarding health concerns and symptoms can be conducted. The mold investigator's interview will help narrow down the potential causes of issues in your home or business, helping to develop a custom mold inspection strategy for your home or office while addressing the issues that are most important to you.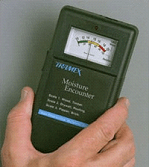 Step Two is the inspection process. A complete visual and olfactory inspection of all accessible areas of your home or office will be performed to locate areas of elevated moisture and other conditions to identify visible evidence of mold growth. Alpha employs some of the most technologically advanced equipment to locate areas of concern that are hidden within walls, floors, or ceilings and concealed from view. Specialized equipment such as such as moisture meters, thermo-hygrometers, remote video cameras, and laser particle counters may be used during the inspection to find those hidden problems. Alpha may also use thermal imaging infrared cameras to help identify areas of elevated moisture invisible to the naked eye. Digital photography is used to document these problematic conditions and provide you clear evidence. Mold assessors have a keen sense of smell to identify odors that may not be noticed by the occupants. At Alpha, we reveal the invisible world.
Step Three entails the sampling process. Mold spores in the air and on surfaces may be invisible to the naked eye. The way to detect these invisible mold spores is to collect samples from the air and from surfaces then analyze them under a microscope. Typically, in addition to the inside samples, an outdoor air sample is also collected. This is done to determine if mold spore counts collected from the indoor air are unusually high in comparison to the mold spore count from the air outside your property, indicating a potential problem. It also helps identify the types of mold proliferating indoors. It is crucial that a trained professional microscopist perform the analysis of the samples collected from your property. Alpha uses a fully certified and credentialed third-party laboratory to analyze the samples. The mold inspection report you receive will include an analysis of the mold spore levels and species identifying the potentially problematic mold types affecting you.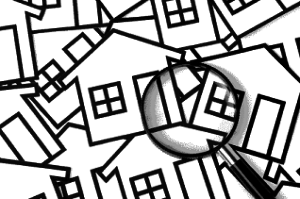 Step Four is the reporting phase of the process. Alpha provides the client with a comprehensive digital report of the inspector's findings, including photos, lab results, along with the inspector's observations, conclusions and recommendations. Alpha's professionals will identify the source and severity of your mold problem with a plan of action. The job is not over yet. As long-standing leaders in the indoor environmental quality field, Alpha has the expertise to enhance the mold remediation process by directing the remediator of your choose. Alpha does this by developing a mold remediation protocol, which is basically remediation instructions as to what work is required to restore your home or business to a normal, healthy environment.
Step Five is the final phase of the process. Post-Remediation Verification (PRV) is performed after mold contamination has been removed by the remediator. A PRV survey, often called a Clearance Test, includes a visual inspection and moisture assessment of the construction materials that were part of the remediation work. Air and/or surface verification sampling is also performed at this time. The PRV is necessary to properly assess whether or not the mold remediation was performed completely and successfully.
Mold is often invisible but its affects are VERY REAL. Alpha Environmental is the industry leader in mold investigations that can reveal this invisible world to the occupants. Alpha's certified mold inspectors work with you to identify and eliminate mold problems, moving forward to a healthy home. After all, isn't that what you truly want for your family?
Alpha Environmental serves the greater Tampa Bay area; all inspectors are Florida Licensed Mold Assessors and are to available by telephone to discuss your concerns. Alpha can be reached at (813) 961-6653 or in Pinellas at (727) 331-6653.