Mold Assessor or Mold Remediator – What's the Difference?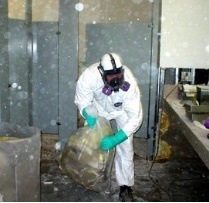 Mold remediation is a somewhat new field of emergency restoration and construction. Twenty years ago, most people – even those of us in the industry – didn't understand the hazards of mold contamination in our homes and offices. Most contractors treated mold on drywall and other building materials using no special care or techniques. Before the mid-1990's, when mold was found, we cleaned or removed it using our normal techniques. Today, mold is treated as a hazardous material. Many people think the mold remediation industry is making a much bigger fuss than needed. Agree, or disagree with the mold remediation industry's precautions, the litigious society we live in keeps prudent people from being reckless.
Typically, mold remediators – the guys that do the clean-up work – are called to prepare an estimate for the treatment, cleaning, removal, and remediation of mold in homes or offices. Most professional mold remediators are conscientious in their examination and analysis of mold, preparing a trustworthy estimate for what they believe needs to be done. Most remediators can easily prepare an estimate if the problem is mostly localized or very wide-spread.
Cross-contamination of mold is a common question. Did the mold spores get into the airstream and amplify in to other areas? Mold spores may have deposited on furniture, carpets, clothing, or linens and textiles. How large an area is affected? Was the air-conditioning/heating system the method of transporting and amplifying the cross-contamination of mold? Professional mold assessors have the knowledge to analyze the facts and present a solution. Knowing answers to these questions may create a remediation that is more effective AND less expensive.
The mold assessor may be able to provide answers for residential or commercial remediation before the remediator finds a problem. Determining the location of varying types of mold growth, may be the mold assessor's most important contribution to the mold remediation project. Knowing the source of the mold can determine the extent of spores that could be originating from that point. The source of mold may also assist in stopping the reason for the mold. Air samples can be critical in determining how far the mold has traveled. Surface samples may help determine if furniture or textiles have been contaminated with mold.
Mold assessors also perform Clearance Tests – Post -Remediation Verification. No substantial mold remediation should be considered complete until a third-party mold assessor has verified that the remediation is successful. Mold remediators often attempt to keep the cost of remediation down by not recommending a PRV. Not having a clearance at the end of remediation is like your plumber repairing a leak at your sink and not turning the water on to test for leaks. Ethically, the clearance should be performed by a third party, not the remediator. By Florida statutes, the remediator is not allowed to give clearance for the job he remediates. Florida Statute 468 requires that a mold remediator may NOT perform an assessment at the same property within 12 months of a remediation. It's the law!
A clearance test – PRV – is more than just a visual examination. It usually consists of air samples, moisture testing and olfactory inspection. A PRV also should include a certificate stating the conditions when the testing was performed.
Check to see if your assessor or remediator is licensed in Florida by visiting www.MyFloridaLicense.com and search for the name of that person. Alpha Environmental employs only Florida Licensed Mold Assessors.
Need an inspection? Call now – (813) 514-MOLD or (727) 331-MOLD.