Asthma Linked to Traffic Pollution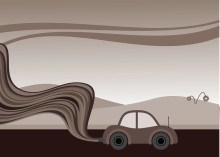 Recent studies have linked Asthma in children to living in close proximity to highway traffic and the air pollution it causes. The University of Southern California (USC) published its findings in the September 2012 online edition of Environmental Health Perspectives.
Research from the Keck School of Medicine at USC found that eight percent of the more than 300,000 cases of Asthma in children living in Los Angeles County were directly linked to traffic-related air pollution at homes that were located within 250 feet of a busy roadway. Living near a roadway constantly exposes residents to the air pollution caused by the traffic.
Asthma's causes are not yet fully understood by the medical community. Factors that are thought to develop in the overly sensitive immune systems of children include early-age respiratory infections, inherited traits, and environmental pollutants including second hand smoke and traffic related air pollution.
Immune system sensitivity appears to cause respiratory airways to swell when exposed to certain triggers. Triggers can include physical activity, and allergies to mold, pollen, dust mites, and pet dander. Other triggers to asthma may be viral infections (such as the common cold), exposure to air pollutants, such as traffic or tobacco smoke, and even exposure to weather changes or cold air.
For more information visit  http://forensicmold.wpengine.com/asthma-linked-traffic-pollution/